Bright colours for house facades - 10 ingenious arrangements
The first impression can only be made once - this principle does not only refer to people but also homes, therefore it's worth taking care both of our interior and external image of our home. The facade together with the colours of the facade, the roof and decorative elements and plinths provide the house with character, making it a showcase for its inhabitants.
Timeless colours of the house facade
Colour selection for house facade is not an easy decision, as the selected colour will accompany us for many years. It's worth bearing in mind that fashions and our taste are subject to change therefore it is a good idea to choose neutral colours with timeless charms that always blend beautifully with the surrounding environment and are eye pleasing. White or grey facade will always belong to timeless colour canon.
White facade
White facade colour has many advantages, mainly due to aesthetic reasons. White facade might be seemingly neutral, beautifully highlights the house against the background of the surrounding greenery and other buildings. In addition, white facade introduces into the space a feeling of harmony and order.
Bright facades
Persons willing to introduce a bit of colour to the facade can make use of a bright palette of colours. Off-white, pastel and delicate beige and grey colours can soften an explicit character of white. What facade colours to pick for our house?
Here are 10 ingenious arrangements:
1. White facade and wood - a combination of white with wooden panels makes the house look modern and eco-friendly. Wood is a beautiful decorative element which attracts attention by its neutrality and warmth.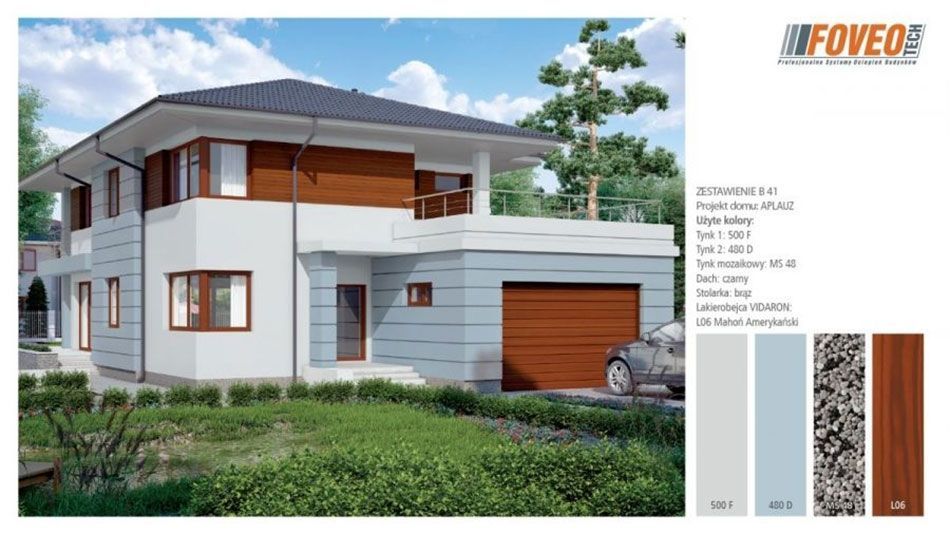 2. Grey facade - grey shades are very diversified - we can find both warm and cold shades in a wide range. Greys are ideal in urban areas. When combined with stone tiles grey facade can gain some rustic features.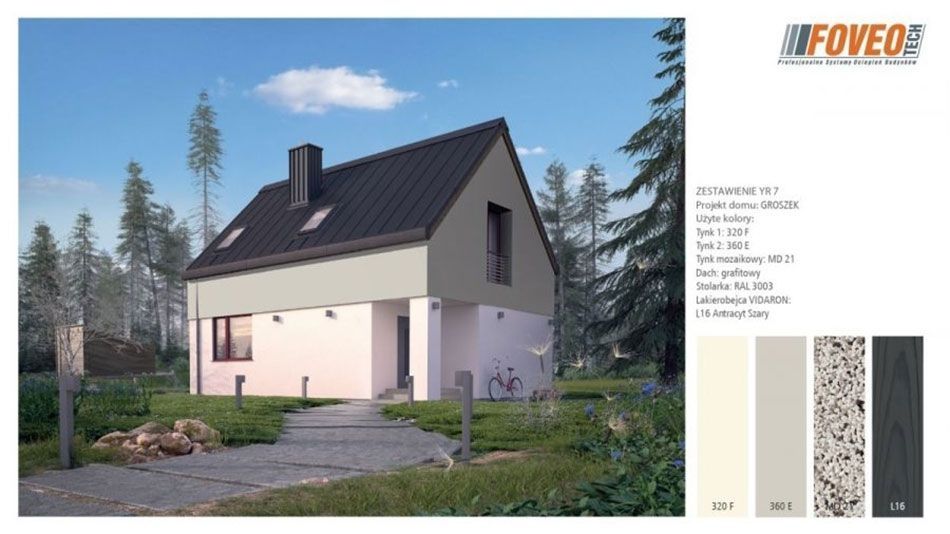 3. Yellow facade - particularly recommended tone-down colours in the shade of straw and honey. Yellows match primarily traditional houses, however, they can be found in modern buildings when combined with greys.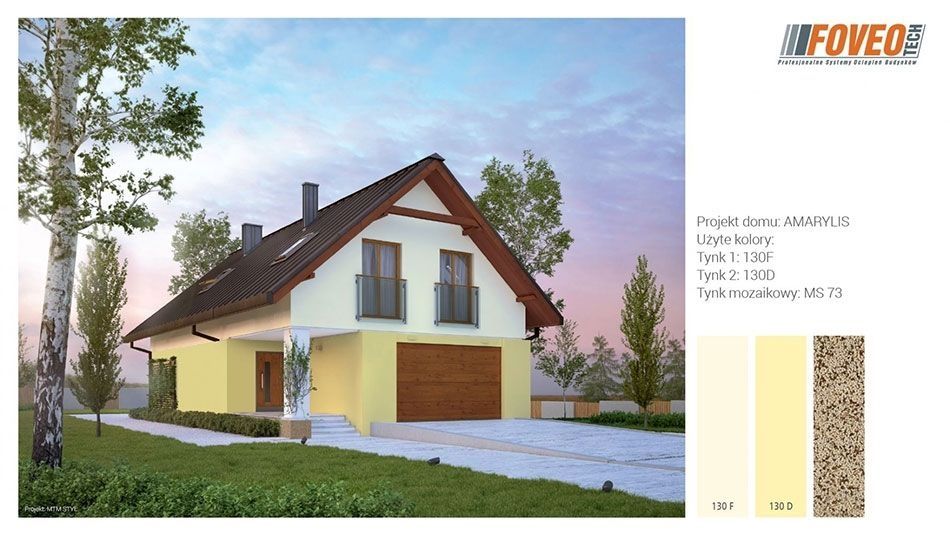 4. Violet facade - elegant and refined lavender colour fits into romantic villas and homes of people who like to attract the eyes of passers-by. Bright facades with a pastel shade of violet are a safe choice - they are harmonious with the greenery surrounding the house.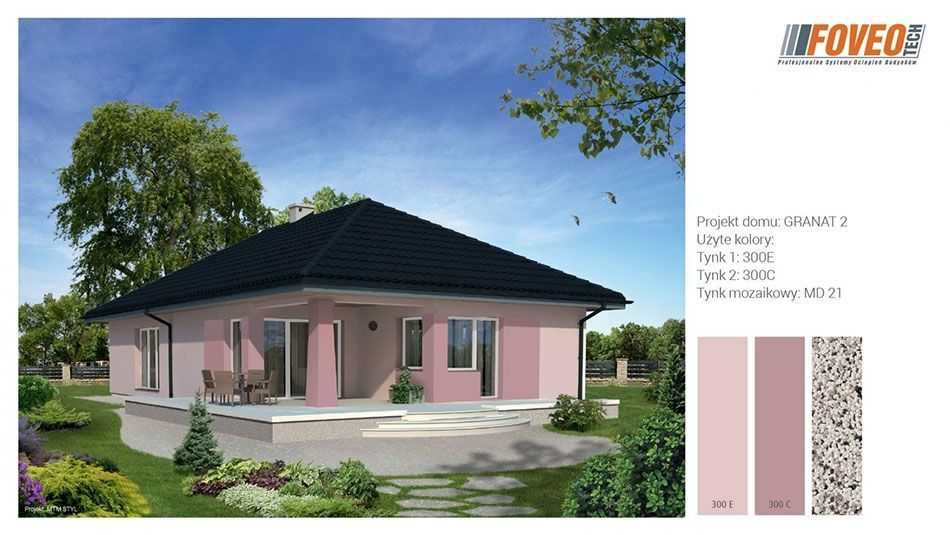 5. Beige facade - bright shades of brown harmonize with natural wood. Beige facade is warm and timeless. Beige is unpretentious and looks well with decorative plinths and almost any type of roof tiles.
6. Green facade - green colour on exterior facade presents itself majestically. A properly selected shade of green does not interfere with the landscape, on the contrary - harmoniously corresponds with the garden vegetation. A combination of olive and pistachio green can create an original and bright facade.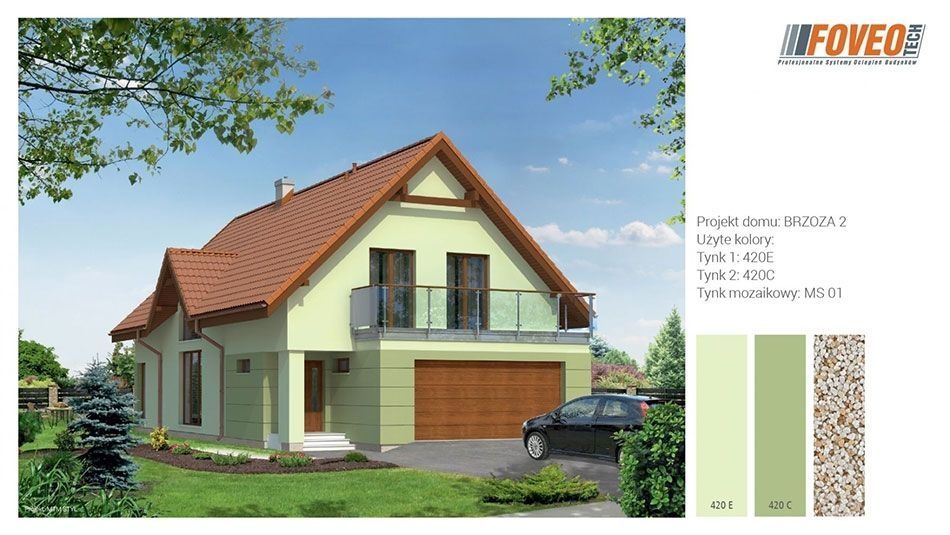 7. Sky-blue facade - houses with a sky-blue colour feature a unique charm. Light blue colour provides a body with lightness and charm. In Poland blue facades are relatively rare, and it's a pity as in combination with pigeon greyish and graphite roof tiles they appear to be phenomenal.
8. Colourful facades - a great solution for large houses. The brighter base can be softened by darker decorative elements that can set boundaries between particular functional zones.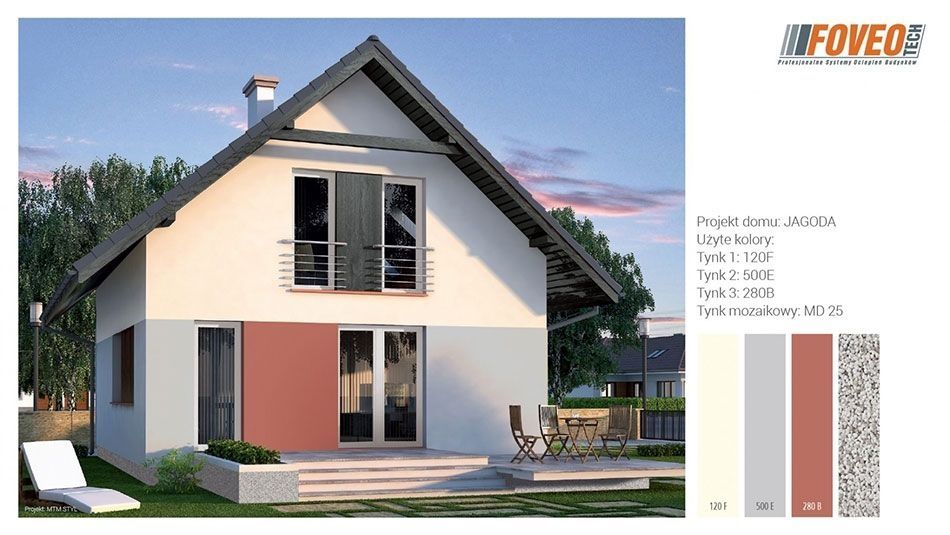 9. Contrast colour scheme - while selecting finishing for facade we tend to look for harmonious solutions. Contrast combinations are becoming more and more popular. A bright or white facade in combination with contrasting window frames, plinths and dark roof can look feisty and modern.
10. Plaster textures - facade finishing is not only about colour but also texture. Introducing decorative elements covered with mosaic plastermosaic plaster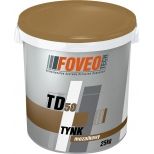 TD 50 Mosaic RenderSee more can make the facade look unconventional and original.
Gallery: