House facade colours and a graphite roof - 5 original ideas
Grey colour is one of the most popular colours in the world of architecture and construction - this also applies to selection of roof colours.
Graphite roof vs. facade
Many developers choose dark grey graphite tiles because they perfectly display and interact with a wide range of facade colours, allowing future homeowners to have extremely original facades and select a variety of facade colours to graphite tiles.
We pick a colour for the facade to match the graphite roof
Finishing of the exterior facade provides each house with a unique character and style. When picking a graphite roof, we have an abundance of ides for the facade. We can choose from classic and elegant solutions as well as unusual and original ones. While selecting particular materials for our facade it is also important to consider the style, shape and body of our home and the surroundings, which not necessarily mean that we have to follow the beaten paths.
Breaking with tradition - graphite roof and green facade
Traditional gable roofed houses are very popular for their functionality and restrained and elegant look that fits well with their surroundings. A simple body and colour-subdued roof are an open invitation for a dose of modern madness. A combination of two green shades is an incredibly up-to-date solution. When deciding on a slightly subdued colour of ripe grass and a bright green pea, we can be sure that the house will look outstandingly - especially when it will be surrounded by a stylishly decorated garden.
Modern elegance - graphite roof and grey facade
The latest architecture of houses features an extraordinary economy and moderation. It is driven by a popular principle in the world of modernism - "less means more". Compact and open spaces, modern houses require a subtle and natural finishing. It is worth combining graphite roof with colours from the same colour family, i.e. grey. Cold and very dark graphite shade harmonizes well with warm and bright tones evoking the colour of natural stone. Thanks to light and warm finishing of exterior facade, the house will gain an elegant look. Distinguishing elements - such as e.g. garage, it's worth highlighting by a bit different shade, which will contribute to emphasising the house's character.
Affordable luxury - graphite roof bright facade
Small suburban residences feature extraordinary charm resulting from a combination of a classical style with a small pinch of luxury. A sophisticated body with avant-corps and bays, a hip roof and an extended garage, as well as decorative shutters and refined exterior facade with beautiful grooves - in tastefully designed residences a lot of things are going on, so it is important to be moderate while selecting a facade colour. Bright and delicate colours will be the most suitable choice here. Light yellow shades is the best option. Graphite roof and dark clinker tiles can additionally highlight the depth of the charming honey colour.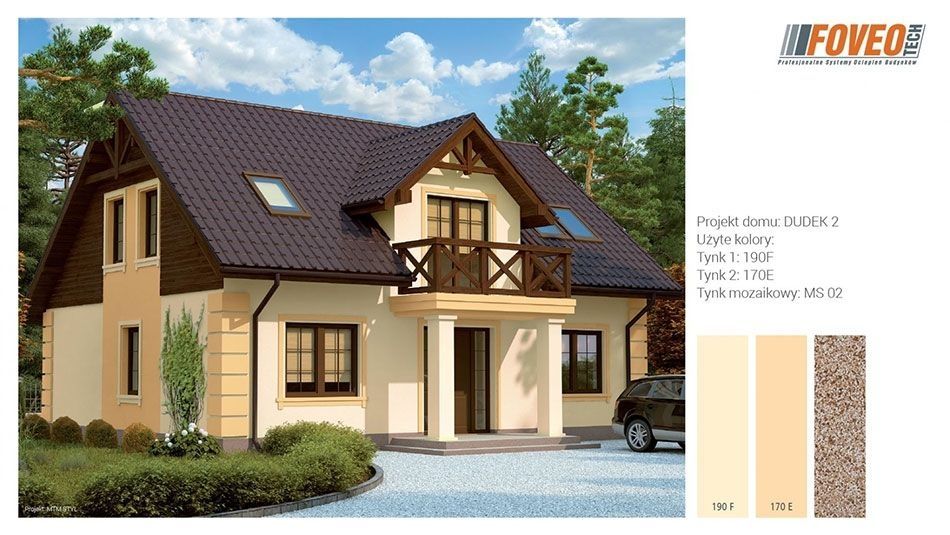 Functionally and aesthetically - graphite roof blue facade
A house is usually divided into functional areas - entrance, sitting room, bedroom, children's room or utility room are carefully thought and designed by architects. Original house facades often take advantage of this division, by reflecting it outdoors with colours. When introducing more than one or two shades to exterior facade, it is worth referring to the roof colour. In the case of graphite roof it is possible to combine various shades of sky-blue. Colours saturated differently combine and complement each other, hence we can afford to add extra materials to exterior facades, such as structural plaster.
Phenomenal contrast - graphite roof white facade
Among original ideas for facades bolder ones can be found, to which, undoubtedly, belongs a contrasting colour combination. One can successfully pick a pure white colour for graphite roof. Snow-white facade toned down with mosaic plastermosaic plaster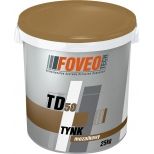 TD 50 Mosaic RenderSee more in a salt and pepper colour will look incredibly modern and neat. Such a solution is ideal for urban areas. Cold colours will fit the urban landscape.
Gallery: