4 interesting ideas for facade of a bungalow
Bungalows perfectly blend with surroundings, family members can admire surrounding nature from their windows, and aesthetic impressions of the neighbours are not disturbed by the building, interrupting the landscape. A bungalow can perfectly blend with the environment, of course, if we choose an appropriate colour for its exterior facade.
Ideas for facade
Exterior facade of bungalows plays an essential role as regards the final effect - stylish and harmonious merging with the surrounding landscape. A selection of suitable colour scheme should be followed by considering the house shape and its roof.
Timeless classic
The most popular are bungalows of classic body and traditional hip or hip and valley roofs. For this type of buildings bright colours of plasters are recommended such as brown, grey and beige. Bright colours can be accompanied with elegant dark-brown roof tiles.
Tradition in a new light
Of course even a classic building allows us to be very creative. Exterior facade of the building can be revived using bold and unusual colours. Interesting red-shaded facades match the character of traditional bungalows. Red facades connote colours of flowers - roses and peony, so they will gracefully blend into the landscape, becoming its ornament.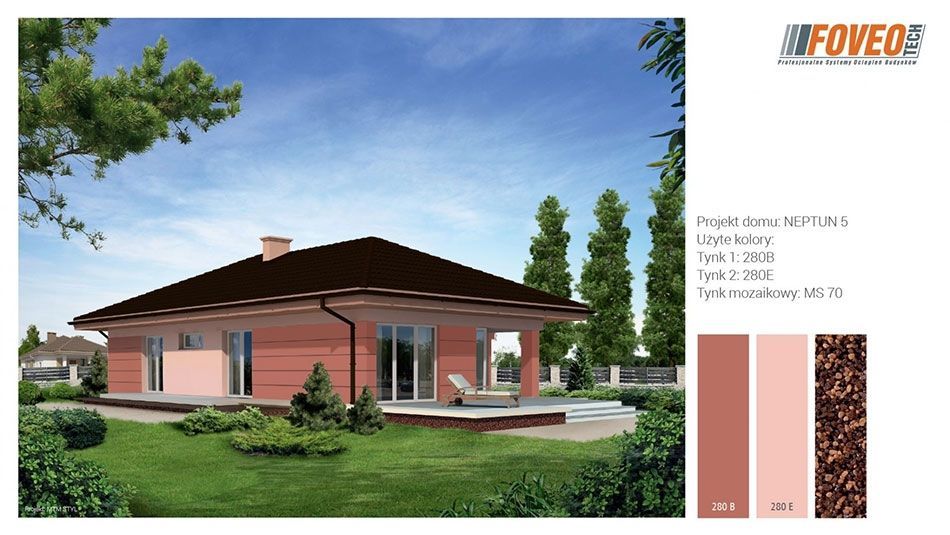 Facades of bungalows with a flat roof
An interesting phenomena in modern architecture are flat-roofed bungalows, which require a completely different approach to exterior facades than traditional buildings. Modern and minimalistic bodies themselves attract attention by their differentness and uniqueness, but only in conjunction with interesting facades, these houses gain unique charm and ultramodern style.
Delicate and natural exterior facades
A simple body in cubist style requires a suitable colour. A selection of inappropriate colours may result in unattractive and overwhelming appearance. We can avoid it by applying delicate off-white colours and warm grey shades. These colours can make our house look cosy, despite its geometric and raw form. An ideal complement of white-grey facade will be flooring panels of natural wood.
Exterior facades inspired by the sky colour - blue
Sky blue has been one of the most popular colours for a few seasons. This relatively rarely used in architecture colour, perfectly matches modern bodies. Bright blue shade can provide a flat-roofed house with lightness. Sky blue in combination with delicate cream white will make the house look ethereal and gentle, and a strong accent in the form of dark mosaic plaster will complement the work.
Gallery: