We pick a colour for the facade to match the brick roof
Brick roof is a classic and timeless choice, but only in conjunction with an appropriate facade colour, the house will look complete and unique. House facades with red roof can be varied, providing the house with a classic, modern and even extravagant character. The effect is up to us entirely.
Brick roof but what facade colour to choose?
When we consider which facade colour will be suitable to match the brick roof, we should first look at our home from a wider perspective, and the choice of facade colour depends on the nature of the surrounding landscape - neighbouring buildings, greenery, terrain, and the size of the house. Plaster colourcolour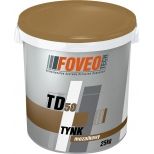 TD 50 Mosaic RenderSee more to brick roof can be classic, i.e. bright and warm but more and more popular become modern grey and extravagant sky blue from a cold colour palette.
What facade to red roof - inspirations
There is no simple answer to the question "what facade to red rood?", thus it's worth getting acquainted with the most interesting proposals, both traditional and modern ones, which become very trendy nowadays.
Brick roof and yellow facade
Warm roof shade is an ideal combination with yellow shades. Bright, pastel colour of the sun will illuminate the facade, while gently orange decorative elements will impart personality to the house.
Brick roof and red facade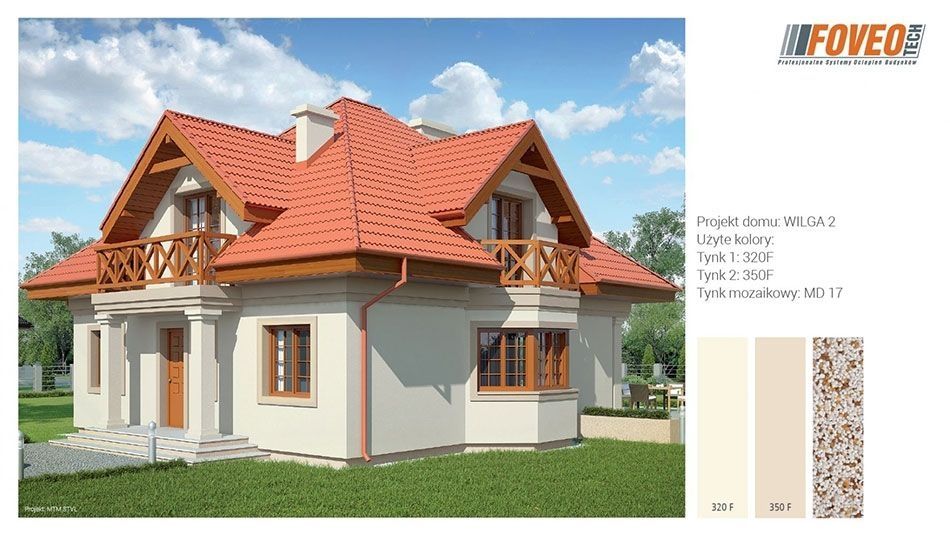 Monochromatic color combinations are extremely fashionable, so while choosing a plaster colour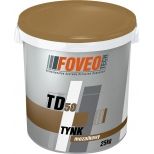 TD 50 Mosaic RenderSee more to red roof [/ tooltip-product], it's worth considering a red colour palette. An ideal effect can be obtained while choosing very light pink shades, complemented by pastel and yellow details.
Brick roof and beige facade
Warm nature of brick roof tiles is beautifully combined with bright shades of brown. Light beige looks classic and incredibly elegant. It is ideal for single and multi-storey buildings. It is a perfect solution for suburban villas, but also terraced houses.
Brick roof and green facade
An extremely impressive, fresh and original idea is to apply a green colour palette to the brick roof. Green is a natural colour - grass surrounding the house and leaves on trees, thus perfectly fits into the environment. Warm green shades are ideal to the brick roof, which perfectly harmonize with red and orange colours.
Brick roof and grey facade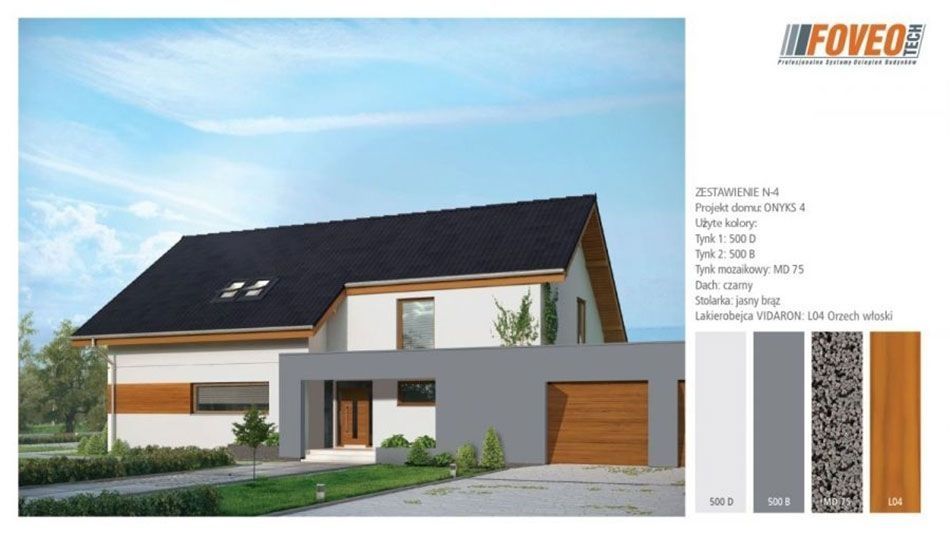 Grey colours are incredibly fashionable both in interiors and exterior facades. While choosing this colour for brick roof, it's worth bearing in mind to keep a balance between light and dark shades. An ideal solution is to introduce wooden decorative elements, which can warm up the image of your home.
Gallery: